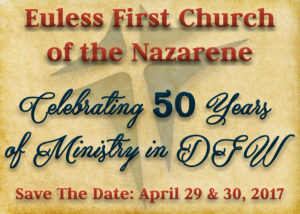 We will be celebrating our 50 years of ministry in the Dallas Ft. Worth area April 29th and 30th, 2017.
Calendar of  Events for the weekend:
Saturday, April 29th:
Come and Go Picnic 11:00a.m.-1:00 p.m.- Bob Eden Park
Give God the Glory 7:00 p.m.- Euless Naz Sanctuary
Sunday, April 39th:
Worship & Celebration 10:00 a.m.- Smith Family Life Center
"Dinner on the ground" - 12:00 p.m.- Midway Park Elementary Cafeteria
---
If you plan to attend, please respond on the form below.
.
---